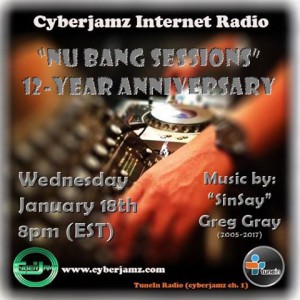 This coming Weds We celebrate Greg Gray & The Nubang Clan Sessions 12 year Anniversary Cyberjamz Radio Show.
showdown this coming Weds Jan 18,2017 from 8 pm – ?? pm est.
Thank you for all the years of great music and your continued dedication of our site. Most of all for being an "EXCLUSIVE" music programmer aka what we call "PURE BLOOD" which are a very few. and in a class by itself since we jumped the site off in 2003.Also for the great music you have contributed during your last 12 years at the award winning Cyberjamz Internet Radio (since 2003).