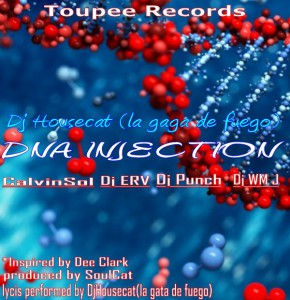 OMGoodness… this HERE.. I mean this HERE !! is ………. yall gotta hear it

Hot Hot Release Alert: DNA Injection – Dj Housecat(la gata de fuego) (Part One) Mixes by Calvin Sol ,Dj ERV , SoulCat , Dj Punch & Dj WM J . – Toupee Records
**This release was done for the apple of my eye and partner Dj Housecat(la gata de fuego). It is a surprise for her and this is the first time we are letting the CAT out the bag. It all started out with a piece she sent to me inspired by Dj Dee Clark Clark and as they say the rest is now about to make HERstory !
Ok now..What can I say about this.jam?.. well let me try. First and foremost what stands out about this dope release is the sensual vocals by our very own Catherine Harris Rowell (DjHousecat(la gata de fuego).. she totally rocked it on the sexy tip ! So let us go through the mixes we have so far for Part One of Two. (More mixes are expected for both packages by our Cyberjamz All-Star Crew of producers.
First up with our new and upcoming producer Calvin Sol who drops a serious deep afro cut without loosing it's soulful side of things followed by Dj Punch's Remix which is an 80's flava rendition filled with that signature sound that only Punch can deliver. Next up we have the fantastic jackin house remix by William Curtis ( Dj WM J ) ,for those that know about this fantastic producer know this one is flava ! The SoulCat version is supa hot and made for the dance floors while **Dj ERV's Mix is still a work in progress as well as other producers from out team that are about to lay it down for us.
**There is a slammin remix by Ronald Overby which is off his upcoming deeperSIDE of Cyberjamz release "4AM FIYA E.P" which is another animal by itself and review coming soon.
produced by SammyRock aka Soul Oasis.
co-produced by The Cyberjamz All-Stars.
All lyrics performed by Catherine Harris Rowell DjHousecat(la gata de fuego)
Another La Gata De Fuego Joint 2018.