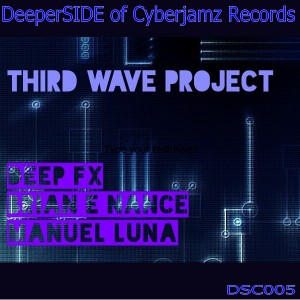 Hot E.P Alert: DeeperSIDE of Cyberjamz Records – Third Wave Project feat DeepFX,Brian Nance & Manuel Luna
What we have here is a collection of individual pieces all offering their interpretation of Deep,Soulful and Afro sounds and rhythms. First up and one of my favs off this package is DeepFX track entitled "Change" ,a lovely soulful deep jackin house music number that will have you on the dance floor and for you old school 80's and 90's deejays we have the slamming acid joint " Move It Huh!".. simply hot!! . next up we have Manuel Luna comes correct with his bangin "State Of Mind" cut for those deep dark rooms and bass bottom speakers.This is a true deep tech joint for those that play a lil harder and different.I left some of the grit and grime of this E.P for my Bronx brother Brian Nance.This man has lost his damn mind with "Wave Runnerz" & "​6Line Zulu Acid" both unique and bangin on their own. That "Wave Runnerz" is the SHIT !!!! nuff said.
All and all this is a dope package.
produced by Brian Nance
co-produced by DeepFX & Manual Luna
cover Brian Nance
Another DeeperSIDE of Cyberjamz Records Joint 2017