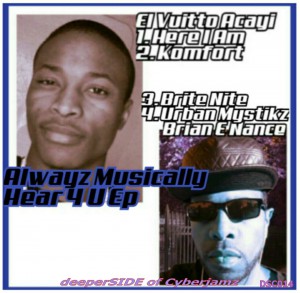 Cat #DSC014
Release:Always Musicially Hear 4 U E.P
Artist: El Vuitto Acayi & Brian Nance
label: deeperSIDE of Cyberjamz
Target release date: Jan 26,2018
deeperSIDE of Cyberjamz – Always Musicially Hear 4 U E.P – El Vuitto Acayi & Brian Nance
If deep is what ya need ,then look no further then this awesome E.P by South Africa's own El Vuitto Acayi and Boogie Down Bronx Parcec's Brian Nance (BTECH).
Close your eyes and dance to these deep soulful house joints with a touch of tech-house offered in this package.First up we have "Komfort" & "Here I am" both beautiful cuts laced with a wonderful trumpet over deep soulful house elements by El Vuitto Acayi while " Brite Nite" & the hi-tech joint "Urban Mystikz" are right on point for those that love that groove to get down.
Bot of these producers did their thing on this package and we are looking forward to more of El Vuitto Acayi in the near future.
all tracks produced by El Vuitto Acayi and Brian Nance.
Another Coyote Entertainment Joint 2018
Tracklist:
1)El Vuitto Acayi – Komfort ( Main Mix ) (5:54)
2)El Vuitto Acayi – Here I Am ( Main Mix ) (6:30)
3)Brian Nance – Brite Nite (6:12)
4)Brian Nance – Urban Mystikz (8:08)
licencing and bookings:
Facebook: https://www.facebook.com/brian.nance.98