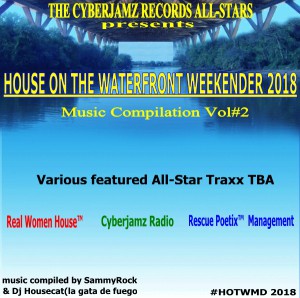 Here we go again !!
The 3rd Annual Cyberjamz Radio,Real Women House & Rescue Poetix™ Management presents: House on the Waterfront Weekender. Event dates are in !! Friday Aug 10 – Sunday Aug 12,2018. at Bladensburg Park in Maryland USA.
**Line-up & live performances TBA.
The official Music Compilation Vol.#2 featuring Various Cyberjamz/Toupee/deepeSIDE of Cyberjamz Records All-Stars will be avail Feb. 2018 (artist & producers TBA).
**All proceeds of this compilation will go towards our event. A HUGE thank you again to our All-Star Team for the contribution.
Stay connected to #HotWMD to keep up to date on event details and features
https://www.facebook.com/hotwmd/
Follow us today
http://www.instagram.com/hotwmd/
hash taggit at #HOWMD
We need your support and you can help by ordering your House on the Waterfront Weekender T-Shirts & Music Compilations.All sales go towards paying for supplies needed to make this event memorable.
If anyone would like to support our 2nd Annual House on the Waterfront Weekender in Bladensburg MD ,please purchase one of our shirts as all sales and proceeds go towards the cost of our Weekender Aug 04,-Aug 06,2017..
please inbox Catherine Harris or myself SammyRock if you need more info about the tee shirts.
T-Shirt Link – http://bit.ly/2gkgajQ
Become an official #HOTWD Sponsor or if you would like to volunteer for our event please contact:
contacthousecat@gmail.com
sammyrock@mail.com