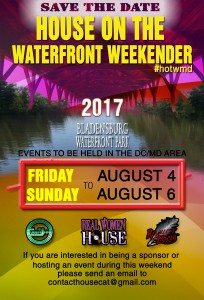 FOR IMMEDIATE RELEASE
January 16, 2017
Bladensburg MD … Cyberjamz, Real Women House and RescuePoetix™ have joined forces,resources and spirits for the 2nd annual House on the Waterfront weekender. From Friday, August 4 through Sunday, August 6, 2017 a variety of events will be presented in the DC/MD area.
Event coordinators interested in participating in the weekend festival, please contact DJ Housecat at contacthousecat@gmail.com or houseonthewaterfrontmd@gmail.com
Additional details and information will be released within the upcoming weeks.
ABOUT THE ORGANIZERS
CYBERJAMZ
The award winning Cyberjamz Internet Radio (est. in 2003) was founded and is owned by Cyberjamz CEO Sammy Rock aka Soul Oasis. CyberJAMZ Internet Radio has been in the forefront of the dance music community for well over twelve years and proud of that accomplishment. As Cyberjamz continues to celebrate growth they continue to focus on serving the music and dance community by providing the best in music by well-established producers and artists, up and coming producers and artists, programmers who are dedicated to the education and expansion of the Music Scene and everything under the Dance Music genre.
Cyberjamz Internet Radio offers one of the most complete show line-ups that provide an eclectic mix of music from programmers/DJS that touch on every style of music. Music is available on the site 24-hours a day, seven days a week and ranges from live programs to random archived sets which are updated on a daily basis.
Cyberjamz Records leads the way for artists to work with producers on releases that are offered on several digital music sites since 2007, in support of the underground independent artist. Cyberjamz teams up with the sub-label, Toupee Records (established in 2013) and Toupee owner/CEO, DJ Housecat to continue to bring quality releases by quality producers and artists. For more information about Cyberjamz Internet Radio, Cyberjamz Records, and Toupee Records, contact and check out our social media pages.
site: cyberjamz.com
Instagram https://www.instagram.com/cyberjamz/
Twiiter https://twitter.com/_cyberJAMZ
Cyberjamz Radio Fan Page https://www.facebook.com/cyberJAMZ/?fref=ts
Cyberjamz Records Releases https://www.facebook.com/groups/cyberjamzrecords/
Toupee Records Releases Group Page https://www.facebook.com/groups/210071055842963/
REAL WOMEN HOUSE™
Founded by Catherine Rowell, (DJ Housecat – La Gata de fuego), Real Women House™ is a non-profit organization dedicated to supporting creative efforts through the Arts, literary works, music and dance. Based out of Hyattsville MD, Real Women House™ strives to connect across the global community to educate, support and uplift the entrepreneurial spirit of the artist. Real Women House™ was established on personal beliefs and the beliefs of the House Music Community that engender Love, Peace, Unity and Community. As a creative outlet, Real Women House reflects its founder's personal interest in a variety of forms of Art.
RESCUEPOETIX™
Besides being a writer, poet, activist, spoken word artist and recording artist, RescuePoetix™ is a business woman with a strong background in the corporate, marketing and promotions side of industry. Her management experience developed along with her own career, working domestically and internationally since 2009. Work includes artist development, networking and marketing and more recently, promotions, event collaborations and bookings for artists in New Jersey, New York, Boston, Philadelphia, Washington DC and Miami. With international ties that touch all corners of the world and across several artistic communities, she has worked to establish a solid reputation with management and consulting, which creates opportunities for an international mainstream presence.
RescuePoetix™ has sponsored numerous community events and entities based in Jersey City NJ. Coming on board to collaborate with Soulful Cypher founders in 2014, involvement includes artist review, talent booking, promotions, marketing, contract negotiation and media sourcing. Most recent endeavors include producing radio shows #JASradio on Cyberjamz Intenet Radio Cyberjamz.com , which is the evolution of Just ADD Sound, and Open up the Mic on The Ground Radio, as well as collaborating with a variety of DJs, artists and event planners to broaden the ideals of unity and positive growth.
For media, interviews, bookings: houseonthewaterfrontmd@gmail.com
Line-up and more info TBA.