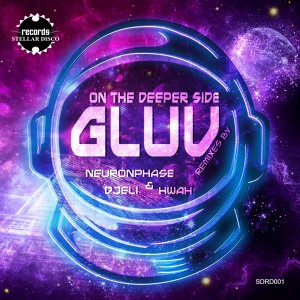 SammyRock & Cyberjamz Radio Track Pick:
Gluv – On The Deeper Side – Stellar Disco Records Promo.
Håvard Kvangarsnes (hWah) comes to us with his new label Stellar Disco Records and offers us their first release package "On the Deeper Side" by Gluv. As some may already know this producer is on some "other shit" when it comes to music and production work. If time permits check out his hot E.P "71 Degrees Of Deep" out now Cyberjamz Records.
Getting back to this deep,dark and beautifully crafted E.P which is perfect for those late night hours on the dance floors. This entire package is a must for Deejay's that enjoy deep house music to it's core! We start off "On the Deeper Side" ,a deep musical ride across all spectrums of house.The " Neuronphase Deeper Side Remix" is a minimal electronic Detroit style track that is very effective during those late night / morning hours.mean while "Djeli Deeper Side Remix" is more on that soulful house music tip we all enjoy without loosing it's goal.. and that is keeping them dancers on the floor. This mix is one of my favs off this package and finally we have another fav of mine the "Stellar Disco FarOutJazz Mix" which is a trip on it's own and wonderfully done.
I found it very difficult to choose a favorite mix, I really like them all and highly encourage to those that love music to support this label and artist. Full support !
Reviewed by SammyRock – Cyberjamz Radio/Records.
This deep joint gets a 9 of 10 on the Soul Scale of Music.
Stellar Disco Records is proud to present as our first release, from Athens Greece, the very talented Gluv with On The Deeper Side. When Gluv first sent us the track we could not stop playing it and it was obvious straight away that this was something special. From the hypnotizing vocal, to the bassline rolling on, to the deep chords and stabs and with he drums providing that steady groove, On The Deeper Side really takes you on a journey of emotion. Just as good for peak time as those 6AM sets. Gluv made it into the TS Soulful Essentials list in 2015 and I would not be surprised if this one takes him into the TS Deep House lists. Gluv is definitely a producer to wacth out for, and we allready have lined up a remix from Gluv on one of our future releases.
From Estonia we got a remix from veteran producer Neuronphase. We fell totally in love with Neuronphase after hearing his track Sawdust on Deeper Inspration Vol II. Neuronphase delivers again with an even deeper version of On The Deeper Side. This one goes straight into the abyss, just turn up the volume, close your eyes and dive into the dreamworld of this remix. Neuronphase makes it feel like the track is made in the early stages of house and could have been featured in the likes of the PU catalog.
Taking a totally different approach with afrolatin percussion, warm jazzy chords, marimba lines and a dreamy flute solo is the dope afrohouse remix from the fresh French duo that is Djeli. Their debut EP Wood Vibration In Tribes came out in december on Oscar P's Afro Rebel Music and is a stunning piece of afrohouse art. Djeli is someone to keep a lookout for as they got some dope projects coming soon on different labels, including Stellar Disco Records.
Lastly inhouse producer hWah delivers a remix which samples the original chords, adds a philosophical vocal line and a far out jazz sax solo.
So with this first release Stellar Disco Records establishes its profile. SDR will present music from many genres of house as long as the music got soul. Expect releases from soulful to jackin to deep to afrolatin from. Next release not to far away so watch out for whats next.
Label art template by Bram De Bruyn
Mastering by Oakfield Mastering
Stellar Disco Records
Contact & Licensing
Stellar Disco Records
Sarpsborggata 9F
0468 Oslo
Norway
Link
djhwah.wixsite.com/stellardiscorecords