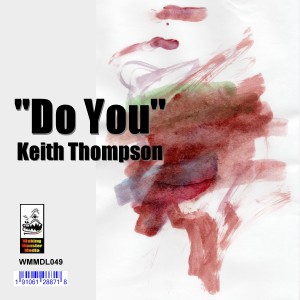 Title: "Do You"
Artist: Keith Thompson
Label: Waking Monster Media
Cat.No.: WMMDL049
UPC: 191061288718
Promo: March 6th, 2017
Release: March 31st, 2017
Available now at Traxsource: http://www.traxsource.com/title/770658/Do-You
GET AN EARLY COPY avail at BandCamp – http://bit.ly/2n1R2Tv
New Soulful house music from the legendary Keith Thompson, the artist behind hits such as: "Break 4 Love," "The Rhythm Of Life," "Can't Take It," "Living On The Frontline," and more.This time after taking a much needed break to handle a few of lifes's hurdles, Keith Thompson is back with this dance floor stomper entitled "Do you" which takes off right where he left off. It's as if he was never gone.Opening this package,I soon realize the kick drums,keyboards and musical elements followed by the unmistakable powerful voice and lyrics of Keith Thompson.I bop my head and start tapping my feet to the "Original Vibe Mix" which bought me right into the banging funky into of the "Afro Swing Mix".Both mixes is where is at with captivating vocals and quality music to match,I must say the dancers and deejay's alike are really going to enjoy playing this for the Spring and Summer.The main thing that stuck out for me besides the music are the powerful meaningful lyrics that only a select few artist can deliver today. So "Don't let them bring you down" and "Dance" are just 2 of the inspirational positive messages within this piece.Oh ..did I mention the music ??
Simply wonderful !
This jam gets a 8 of 10 on the Soul-Scale of House.
Reviewed by SammyRock – Cyberjamz Radio/Records
http://cyberjamz.com
*Additional notes and info.
"Do You" was written years ago as inspiration to myself and to my children in a future time when
they would need encouragement to believe in themselves and achieve their dreams in the face of
doubt. I held back on finishing it because I was lucky to be busy touring. But also because I thought
nobody wanted to hear this kind of theme. People were into more simple, happy, basic dance songs.
Then I convinced myself it was too personal for the market. I'd finish it for my kids. After a tragedy
in my life I began searching through my old releases and unfinished work and found this song. It
spoke to me and I realized I needed to finish it for my kids and to share it with my fans.
Glad that I've finally been able to finish and release it to inspire you. Do you is slang for doing
what is true to you; be authentically you and focus on your dreams.
The cover art is a water color painting by my daughter from when she was around 6 years old.
Close to the time when she and occurrences inspired this song. It seems appropriate to use instead
of a promotional photo.
Your feedback and support will be greatly appreciated.
Tracklisting:
1. "Do You" (Afro Swing Mix)
2. "Do You" (Afro Swing Radio edit)
3."Do You" (Original Vibe Mix)
4."Do You" (Original Vibe Radio edit)
Music & Vocals composed & arranged by Keith Thompson.
Programming by K. Thompson & Preben Hansen @ Bass Monkey Studio, London.
Vocals and additional production recorded, Mixed & Produced
by Keith Thompson @ Thompsonic Studios, Brooklyn. NYC
Writer: Keith Thompson (BMI)
Publisher: Jamlure International (BMI)
(c) 2017 Waking Monster Media/Jamlure International, all rights reserved.
(P) 2017 Jamlure International, all rights reserved.
Waking Monster Media, Jamlure International P.O. Box 6192 F.D.R Station, New York, NY 10150 USA
www.facebook.com/KeithThompson.Artist
Twitter: @Keith_Thompkat