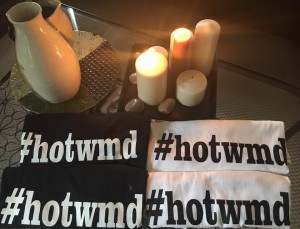 Cyberjamz Radio & Real Women House presents House on the Waterfront T-Shirts now available!!!
**Purchase one of our shirts today as all the money collected will go towards the cost of our 2nd Annual event coming Aug 4TH-6TH,2017 (GOD Willing).
T-Shirts come in sizes medium to 2x, (ask about additional sizes) black and white (as featured in picture) for $22.00 which includes shipping and handling. These shirts are high quality 100% cotton and the design reading our hash-tag #hotwmd which stands for House on the Waterfront Maryland. It's a collectors item for our site and for this event.
Paypal email is jusdefacts@aol.com
Make sure to add your address, size, quantity and color. For every shirt sold you are contributing towards our 2nd Annual House on the Waterfront WEEKENDER coming August 4TH-6TH 2017.
About this event.
This was our first ever 3 day weekender / outdoor event held at Bladensburg Waterfront Park in Bladensburg,Maryland. It was a huge success as we featured talented music programmers and recording artists from our radio station & record labels in collaboration with Houseology & RescuePoetix Management. A full report of events,pics and commentary will be posted again very soon for those that missed it the first time. The weekender kicked off with the Just Add Sound Poetry Showcase and OpenMic, then the Montage BoatRide featuring Sam "The Man" Burns and our main event and grand finale on Sunday August 7,2016.
This coming 2017 Summer Season,we will host the 2nd Annual House on the Waterfront Weekender featuring once again Cyberjamz Radio and label talent and other activities. We hope those that came out last year will once again support us and this time we are inviting YOU to participate and enjoy what was one of the best days weather wise we could ever have asked for.. details coming soon, until then lock in August 4th-6th as weekend of activities not to be missed!
Check out promo video !
https://www.youtube.com/watch?v=NOF4aCZ-d0s
Here is a peek at our first post about this event.
Cyberjamz, Houseology, Real Women House and RescuePoetix™ have joined forces, resources and spirits to put together House on the Waterfront weekender, starting Friday, August 5, 2016 with Just ADD Sound. A double header is set for Saturday, August 6, 2016 with Mont.age presents The Sam Burns Boat Party! Featuring Bacanito (Montreal) and Backbar and Mont.age present After Dark After Party featuring Sam Burns and Bacanito. Sunday, August 7, 2016 features The House on the Waterfront Weekender finale at Bladensburg Waterfront Park. This all day event is open and free to the public and offers interactive activities such as Yoga, Gospel House aerobics, Zumba Fitness and Spoken Word and dance performances.
The House on the Waterfront Weekender showcases a diversified offering of entrepreneurs, independent business owners, DJs, artists, organizers and supporters of Global House Music, poetry, education, health and fitness and Zumba dance coming together from a variety of locations as Maryland, Washington DC, Miami FL, New York, New Jersey and Montreal Canada.
This collaboration is sponsored in part by Bird Kitchen & Cocktails (DC), Soulful Cypher (NY), Mont.age (DC), Photos by Syb Photography (MD) and Vonnie's Yummy Cookies (MD)
We will be featuring everythang from Zumba to YOGA.. to live performances to music by The House of Soul (SammyRock and DjHousecat(la gata de fuego) , Hippie Torrales, Dj Val McEwen . Dee Clark and more !! This is very exciting for us and hope you can join us as Ill be giving away a few cd promos of our upcoming music and mixes………. SO COME ON DOWN !
Check out promo video !