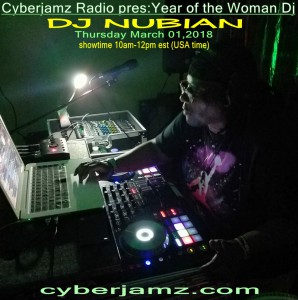 Cyberjamz Radio pres: Year of the Woman Dj (The Music Series) featuring Dj Nubian (NYC).
This week are proud to feature another wonderful female deejay hailing out of Brooklyn, New York City.What was heard thru the grapevine is that Dj Nubian can get it in with the best of em.We shall find out this coming Thursday March 1,2018 as we support any and all women djs from across the globe.
**New show time is from 10am – 12pm est (USA time). We hope you guys can stop by a minute and support our ladies in this Year of the Woman Dj (Music Series)
Short Bio & Info:
Welcome to The Nubian Experience. DJing on Fat Traxx Radio, an internet driven station, every Thursday evening 6PM to 8PM. I am a multi genre female DJ. I play all over the NY tri state area including PA, L.I. & DE. I've been playing since vinyl. Music has been a passion of mines since a child. My mom has used music to calm me and it still works to this day. For those who love music as I do, can identify with those feelings. So take a ride with me on the Nubian Experience.
Peace & blessings
DJ Nubian Of The Nubian Experience
Facebook:
https://www.facebook.com/dianne0262/