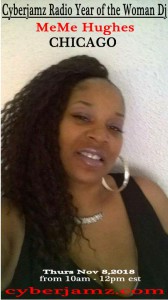 Cyberjazm Radio, Real Woman House™ & Rescue Poetix™ Management presents: Year of the Woman Dj Music Series featuring the hot MeMe Hughes.
Stream or download Podcast here: http://souloasis.cyberjamz.com/?p=4139
MeMe C.E.O of JUS MUZIK Internet Radio reigning out of Chicago IL (USA) delivers a banging set of which will be featured on our next episode of "Year of the Woman Dj" at Cyberjamz Radio, Thursday Nov 8,2018 from 10am – 12pm est (USA TIME). So get ready to celebrate another woman of house as we crown another excellent music programmer for this year.
CEO/Founder/Owner at JUS MUZIK Internet Radio
JUS MUZIK Internet Radio
https://www.facebook.com/JusMuzik/
contact and booking:
jusmuzikradio@gmail.com
@JusMuzik
Hash taggit
#5Mag10
#respect #jusmuzikradiosupports5magazine #5maghotness
Year of the Woman Dj Music Series is Sponsored by
Real Women House™ – Catherine Harris Rowell
House on the Waterfront™ #hotwmd
Rescue Poetix™ Management
Mz Mz.Neicy's Who you Rocking With? Music Group – http://bit.ly/2rRwaVC
Blayne Ashmore Feelin it Entertainment at http://bit.ly/1V70fYg
Jorge Garcia Graphix & Design
Follow us on instagram
https://www.instagram.com/cyberjamz/