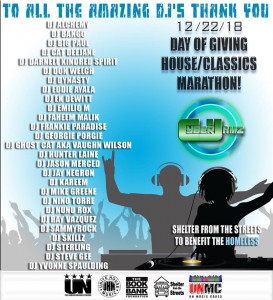 This week WE together can make a difference! The donate link www.UNMusicCares.com/shelter
CYBERJAMZ RADIO ENCORE this coming weekend and it's BY POPULAR DEMAND!!! Saturday 12/22/18 through Sunday 12/23/18 from 8am to 8am on Channel 02
*****DAY of GIVING to BENEFIT the HOMELESS 24+ DJs mixing House/Classics for Shelter From The Streets 2018.
*******This is a Donation Drive: www.unmusiccares.com/shelter *******
Donate $1 to $5 and help us reach our goal for the Homeless.If we reach it then I will post podcast of each segment for your collection ! ALL 24 + deejays rocked all genres of music.This marathon will also air on Chew TV and other platforms including Facebook.So help us spread the word and lets do it together for the Homeless Shelter!
*ChewTV and other links will be posted Saturday morning.but catch it directly at http://cyberjamz.com/
Join us in Chat Room (Ch.02) – No Registration Needed
http://bit.ly/1hV3WZl
Direct link to live stream – Channel 1
http://cyberjamz.com/live2.asx
Mobile phones (Download the VLC Player for I-fones or Androids. and type in the direct link http://cyberjamz.com/live2.asx or use and download the Tune in Radio app (Free from the app store)
http://bit.ly/1tX09DY
Let us know how we can serve you if you having issues connecting to the stream.This is a Donation Drive: www.unmusiccares.com/shelter