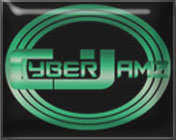 Cyberjamz Internet Radio –  MAC info
We here at Cyberjamz Radio are always trying to find ways of serving our music community and with that said there will always be some technical issues we can address. As we continue to serve you, we will find new ways of making it easier for listeners to connect to our live feed of which has been our format for 9 + years. It has been brought to my attention the issue with the MAC computers as far as connecting to the live stream.
If on a MAC please try the following:
Open up a tab in Safari or Firefox,copy and paste this link  http://cyberjamz.com/live.asx into your browser (this should open up the live feed to your default player) Quick Time,I-tunes or Windows Media Player for MAC's.
If you are still having issues, please refer to our SITE HELP Section of our forums
http://bbs.cyberjamz.com/forumdisplay.php?f=8
http://bbs.cyberjamz.com/showthread.php?t=853
There is also  a link for our Silverlight player of which they made one for MAC's now –>  http://microsoft-silverlight-mac.en.softonic.com/mac/download
Check out these sites for more easy to follow steps on how to play .asf files on a MAC
http://ask.metafilter.com/8693/How-can-I-play-asf-files-on-my-Mac
Flip-Mac is also a good converter.
http://fairerplatform.com/2011/05/how-to-play-asf-files-without-flip4mac/
WINDOWS MEDIA PLAYER for MACS – THIS IS A GREAT ONE TOO,FOR IT HAS ALL THE FILES CHECKED FOR YOU OR YOU CAN CHOOSE .wma .asf .asx .mp3 .wav .mov and more.
http://www.sigmaxi.org/about/documentary/macusers.html
Chat Room
Please log in through the front page http://cyberjamz.com and click Chat Room or directly at  http://chat.cyberjamz.com/chat-lowres.aspx   Log in as a guest and that will get you into our chat. If you become an offical Cyber-Member,please log into our forums and register with a valid email address and password. This will give you the privilege of becoming an official member. As a member you can log in with a username and password of your choice and view any pic(avater) you upload to the site; it will also be seen inside the chat room.
If any of the above solutions did not work and you need further assistance please contact our site Tech Support – Mr.Techy.
Thanks
House of Soul
Sammy Rock &  Housecat
Cyberjamz Internet Radio
http://cyberjamz.com
Technical Director
ndelgado@optonline.net