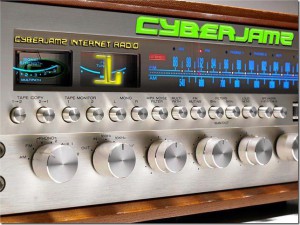 Cyberjamz Internet Radio (est. in 2003) has been in the forefront of our dance music community for well over 12 + years and proud of that accomplishment.As we continue  in this upcoming 12th year,our goal is the same, to serve our music community by providing the best in music and everything  under the umbrella of the genre dance.
As technology advances so does our opportunity to continue to support of our musical culture.Now you catch our shows via using the tune in radio mobile  application http://bit.ly/1tX09DY  ) and or yourmuze.fm  (Key search to find us is Cyber).
If time permits.take a moment and come experience what we have to offer at Cyberjamz Internet Radio.We also offer one of the most complete line-up of  shows and music programmers that provide house music sets  that you will find on the internet. Till this day most shows air live, 24/7 – 365 days a year  on both channel's 1 & 2.If you miss any of your favorite deejay's or shows,then check out our archives section which are always updated on a daily basis.
There is always something on at Cyberjamz Internet Radio Headquarters.
Cyberjamz  Records is a record label that has also been leading the way  and offered on several  digital music sites and now teams up with the new  sub-label ( Toupee Records ) owned by  DjHousecat(la gata de fuego).Together we hope to feature more new releases,artist and producers that emerge in our scene.Check out the releases link on our front page as we have something for everybody that truly enjoy dance,afro house,soulful house,tech house and more.You can purchase our catalog at:
Founder & C.E.O
Sammy Rock aka Soul Oasis
Vice President
Catherine Harris
Technical Director
Nestor Delgado aka Mr.Techy
Powered by Tracks-online.com
The House of Soul w/SammyRock & DjHosuecat(la gata de fuego) airs every Monday from 9am – 2pm est at http://cyberjamz.com
Official House of Soul Podcast Page with free downloads:
http://souloasis.cyberjamz.com/
Cyberjamz Radio on FB
http://www.facebook.com/cyberJAMZ
Cyberjamz Records on FB
http://www.facebook.com/groups/cyberjamzrecords/
Toupee Records on FB – DjHousecat(la gata de fuego) label.
http://www.facebook.com/groups/210071055842963/
Official Cyberjamz Radio & Records Music Group Page:
https://www.facebook.com/groups/cyberjamz/
Cyberjamz Radio & Records on Twitter.
http://twitter.com/souloasis1 or https://twitter.com/_cyberJAMZ
booking and info email sammyrock@mail.com or contacthousecat@gmail.com