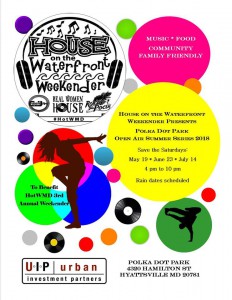 To my DMV and Baltimore Family. We are kicking off our Open-Air Pre-House on the Waterfront Weekender 2018 Season with our first out of three events planned and leading up to our official #HOTWMD party in August.
Save the first date which is Saturday May 19 and will be held at Polka Dot Park in Hyattsville, Maryland. THEME for this event is "Bandana's and Beats" .. so wear your favorite Bandana and be ready to come dance your ass off ! Park and music programmer showtime is from 4pm – 10pm
Jammin on the dex are Milk Chocolate City's own Chosen aks Chosen the Househead along side one of our favorite and diverse Cyberjamz Radio music programmer Dj Val McEwen.Closing out this first event is The House of Soul (SammyRock & DJhousecat(la gata de fuego) .