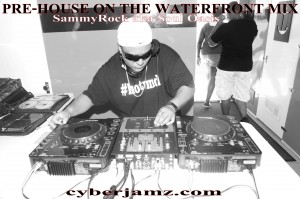 This set here was done before our House on the Waterfront Weekender 2017 event featuring a few genres ranging from funky downtempo to house music,this set has something for everyone.Hope you guys enjoy this set as much as I did playing it .
stream or download SoulCAST here http://bit.ly/2wgEcZD
If you missed our event this year ,then Save the Dates for 2018 which run from Friday Aug 10 thru Sunday Aug 12,2018 at the DMV – DC/Maryland/Virginia circle GOD Willing.Stay connected with updates at https://www.facebook.com/hotwmd/
The Soulist:
1.En Vogue-Im Good The Remixes(RobHardt Remix)
2)T.S.O.J. (The Cooldown Mixes)- Jazz Not Jazz Massive
3)Cherish your Love – Kool & The Gang (Funky Soul Oasis Remix)
4)Fly like an Eagle – Steve Miller Band (Soul Oasis vs. Start from Scratch Downtempo Remix)
5)When Doves Cry – Ginuwine (Start from Scratch Edit)
6)unknown at this time
7)Whistle while you Work to my Big Beat (Funky Soul Oasis Edit) – Billy Suier vs Snow White & the seven Dwarfs
8)Big Beat Mercedes Benz – Janis Joplin vs. Billy Suier (Funky Soul Oasis Edit)
9)Walk This Way – Run DMC (Edit)
10)Big & Rich – Save A Horse (Ride A Cowboy) (Soul Oasis Funky Beat Down Edit)
11)Love you inside Out – Bee Gees – Cole Medina Edit
12)Unknown at this time
13)Fragments Of Your Love – RescuePoetix – Mephia (Ion Phase Remix) – http://bit.ly/2vj3C8g
14)Machine- Dj Soulful
15)Forgiven – Inner CIty Sound Clash Feat Dezaray – http://bit.ly/2tUxBDn
16)Castle Hill Deep'em Out – Brian Nance – http://bit.ly/2twJDmb
17)Wicked Games – Chriss Issak (Dj Punch Baby Powder gets Wicked)
18)Beutiful – Glenn Gregory feat.Jay Kilbey – coming soon Cyberjamz Records
19)Rise up – Da Hit Makers Remix – Cyberjamz Records All-Stars – http://bit.ly/2uqkCZV
20)Groove with you – Isley Brothers – Dj Punch Baby Powder Remix – Exclusive
21)Don't Stop Remix – Omar (The Remixes Pt1) The Reflex http://bit.ly/2wdoxWM
22)Such a Feeling – Aurra (Soul Oasis Klassic Loop n Ride Intro)
23)Weak – Janice Woods (Maurice Joshua Original Re-up Mix) http://bit.ly/2ubD97Q
24)Iggy Azalea ft. Anitta-Switch (Tayo Wink Brujeria Soul Edit)
25)Emotions – The MegaMen (Joseph Mercado & William Rosario) – http://bit.ly/2uPWIo9
26)Love you Down – Ready 4 the World (A Soul Oasis Nexxus)
27)On the Floor(Rock-It) Tony Cook & The Party People
28)unknown at this time
29)All I want (Carlos Sanchez Piano Mix) – Carlos Sanchez Movement 3 coming soon Cyberjamz
30)Lavender Smoke – Vanessa L.Smith & hWah out now http://bit.ly/2sXBhQ8
31)Deep In The Jungle- Cyberjamz Records All-Stars (DJ ERV HOTWMD Mix) – http://bit.ly/2uqkCZV
32)Walk With Him (Glenn Gregory Remixes)Mona Bode' – Cyberjamz – http://bit.ly/2uRnWJD
33)Lowdown – Bob Scaggs (D&D Productions Edit)
34)Poot the Rekid Back On -Bits n Pieces (SoulCat Klassic HOTWMD Edit)
35)Monkey Shine – SoulCat ClassiC edit.
Thanks to everyone for the love and support of our site and shows. Check out The House of Soul w/SammyRock & DjHousecat(la gata de fuego) every Monday from 9am – 2pm est at http://cyberjamz.com
Booking and info Catherine Harris Rowell contacthousecat@gmail.com
sammyrock@mail.com