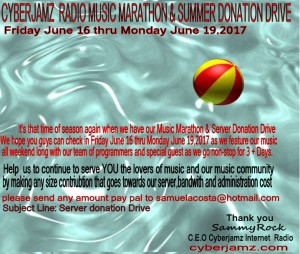 It's that time of season again where we gather for a weekend of non-stop music,chat with friends and Cyberjamz family and donate to keep us on-air.
Join us as we host our Cyberjamz Radio Music Marathon and Server Donation Drive for 2017.
If you've never experienced one of our Marathons,then try and make it this one. This on-line event jumps off Friday June 16, at 9am est (USA Time) with Lady Cecilia Birdex Vintage Soul and end Monday June 19 with The House of Soul Show – SammyRock and DjHousecat(la gata de fuego).
These music marathons and server donation drives are so much fun both musically and in our chat room while hearing our Cyberjamz Music Programmers back to back,all weekend long!!
In addition we are also having our Server Donation Drive to help keep us on-air serving our music community and culture.. All proceeds go towards our server and admin cost associated with running the site.
Cyberjamz Internet Radio has been at the forefront of house music since 2003. We are proud to continue our tradition of providing this music service "Till the wheels fall off this MF**ker" !
How to make any size donation:
pay pal samuelacosta@hotmail.com
Subject Line: Server Donation Drive.
If you prefer to mail in a check or money order please email me at sammyrock@mail.com or PM me for the mailing address.
Thank you in advance for your contribution as we pleadge to continue to serve YOU !! the lovers of music by providing this service and music for the people.
OFFICIAL LINE UP – Friday June 16
9am-11am Lady Vintage Soul
11am-1pm Cordell Johnson
1pm-3pm Neal Conway
3pm-5pm RHOUSE
5pm-7pm Dj ERV
7pm-9pm Big Al Smith
9pm-11pm Dj Val
11pm-1am Classics NYC with Barry "The Maestro" Mason & Lynn Lockamy
—————————————————————————–
Saturday June 17
8am-10am Andrew Waite 's Raw !!
10am-12pm Hakeem Syrbram – Keemix Show
12pm-2pm Wil Milton Music Cafe
2pm-4pm Greg Gray Nubang Clan
4pm-6pm David Shell – The Ride
6pm-8pm Dance of Distinction Showcase w/Michael Menton & Sheila Johnson
8pm-10pm Sons of Soul – Anthony Mack & Darren Demann Parker
10pm-12am Abe Ab Seven Rodriguez – Soul Stoned House
——————————————————————————–
Sunday June 18
7am-11am Jorge Garcia – The JorgeG Show
11am-1pm First Responders of House (K Nyerere Ture & Tommy Wickens )
1pm-3pm Steve Gee – Sunday Groove Sessions
3pm-5pm Djsteve Bass – Mixin' it Up
5pm-7pm Regan Jones – Dj Algebra – Housin it up
7pm-9pm Delmar Browne – The BK Basement
9pm-11pm Donald Khaleel Mason – The Truth Serum
——————————————————————————–
Monday June 19 Marathon Finale
9am-2pm The House of Soul w/ SammyRock and DjHousecat(la gata de fuego)
Chat Room – No Registration Needed
http://bit.ly/1hV3WZl
Direct link to live stream – Channel 1
http://cyberjamz.com/live.asx
Android and more – Tune in On-Line or Mobile
http://bit.ly/1tX09DY
Cyber-Sponsors
http://bit.ly/18lqh3R
all shows are sponsored by:
Real Women House -Catherine Harris Rowell contacthousecat@gmail.com
House on the Waterfront #hotwmd
Rescue Poetix(tm) – contactrescuepoetix@gmail.com for info
Robbi Walcott Nypromoter – contact robbipromoter@gmail.com
Blayne Ashmore Feelin it Entertainment at http://bit.ly/1V70fYg
Jorge Garcia Graphix