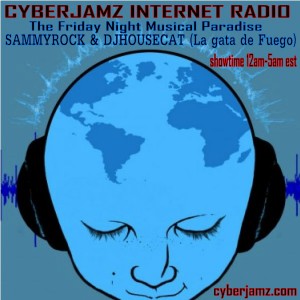 Still awake after midnight and need a lil insomniac music to keep you company? Are you just walking in from a bad night of music? Do you just need to party just a tad more? Then have we the music show for you !
The Friday Night Musical Paradise with SammyRock & DJhousecat(la gata de fuego) We going to be rolling it back tonight into your Saturday morning.
showtime 12am midnight till 5am est
Site:
http://cyberjamz.com
Chat Room – No Registration Needed
http://bit.ly/1hV3WZl
Direct link to live stream – Channel 1
http://cyberjamz.com/live.asx
Android and more – Tune in On-Line or Mobile
http://bit.ly/1tX09DY
Cyber-Sponsors
http://bit.ly/18lqh3R
all shows are sponsored by:
Real Women House -Catherine Harris Rowell contacthousecat@gmail.com
House on the Waterfront #hotwmd
Rescue Poetix(tm) – contactrescuepoetix@gmail.com for info
Robbi Walcott Nypromoter – contact robbipromoter@gmail.com
Blayne Ashmore Feelin it Entertainment at http://bit.ly/1V70fYg
Jorge Garcia Graphix & Design
Dj Booking and info.