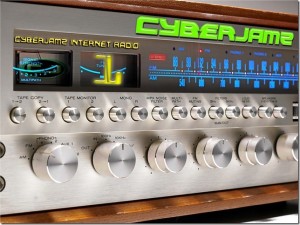 Cyberjamz Internet Radio (est. in 2004) has been in the forefront our dance music community for well over 8 + years.As we are in the 2012 and we continue to serve by providing the best in underground,deep-house,soulful house,classic disco,salsa,reggae,hip-hop and many other genres in between.Come and experience what we have to offer.
This year we lost another main-stream FM Radio Station in Kiss FM / NYC which now leaves us here in the cyber-world to provide music 24/7 – 365 days a year both on channel's 1 & 2.
As technology advances so does our opportunity to continue the support of our musical culture as more new releases,producers,labels and artist emerge in our scene.They all count on each and everyone of us programmers to bring forth to the world their talents.I trust if you are new to our site or have been a member for many years,we can only hope you help us succeed and continue to support our site and cause for the next generation of house music lovers.
Check our forum pages for line-up,playlist and infomation in our forum section
Founder
Sammy Rock aka Soul Oasis
Vice President & Technical Director
Nestor Delgado aka Mr.Techy
Powered by Tracks-online.com