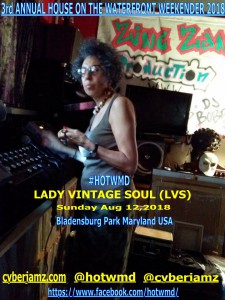 Waterfront tested……….. Waterfront Approved !
Just added Letz go !
The Cyberjamz Radio, Real Woman House & JAS – Rescue Poetix presents: The 3rd Annual House on the Waterfront Weekender Aug 10th through Aug 12, 2018.
This year will be even more entertaining than last as we just added our opening music programmer rocking classics & more is our very own Cecilia Birdex – Lady Vinage Soul (LVS). who will be featured on Day #3 of 3 Sunday Aug 12 Closing of our House on the Waterfront Weekender 2018. which is held at Bladensburg Park in Maryland USA.
If you love classics and house music ,then this event is for you.
stay connected with updates and info:
https://www.facebook.com/events/718524428350721/
Dj Line-up (Subject to change)
The House of Soul w/SammyRock aka Soul Oasis & DjHousecat(la gata de fuego
Closing out this years event is the tag team of Damond Ramsey & Sahib Muhammad.
*Live performance this year by Dana Weaver I'maStar
*Special percussion set and beat down by Shelia Shabazz
If anyone attended last year. then. you know how much fun we had dancing,socializing and just chilling under the sun. The entire weekend turned out better than expected .This year come out and make History with us again !
In the meantime if time permits join our fan and info page and or Follow us on instagram or twitter
http://www.instagram.com/hotwmd/
hash taggit at #HOTWMD
** We are currently looking for volunteers and sponsors for this event.Serious inquiries only!
Catherine Harris Rowell contacthousecat@gmail.com
Sammy Rock – sammyrock@mail.com