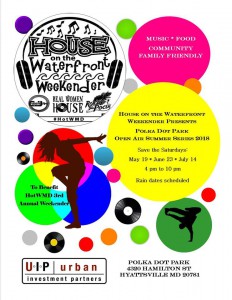 Y'all asked us for it…well here ya have it !
SAVE THESE DATES May 19 * June 23 * & *July 14,2018 for our Cyberjamz Radio – Catherine Harris Rowell Real Women House & JAS/ Rescue Poetix Management press #HOTWMD Open Air Music Series at Polka Dot Park in Hyattsville MD (DC/Maryland) USA.
We hope you guys can come out on any of these dates posted.As per your request in us having a few more outdoor parties before the main House on the Waterfront Weekender that goes down in Aug 10th through Aug 12,2018, we decided to bring to you & our music community our first outdoor park jam at Polka Dot Park in Hyattsville Maryland featuring Cyberjamz Radio music programmers and local deejay talents from across the DMV Area from DC to Baltimore which will be posted soon.
This is a family event ,so bring your children,parents,friends and get ready to dance your assess off & get a little taste of how our House on the Waterfront Weekender sounds and feels like outdoors.It's important that our music family come out and support,so we can show folks how we party outdoors with HOUSE MUSIC ! Help us keep our culture alive by supporting our music.
Line-up, links,event info and more will be posted this week.
**Theme for the day is "Bandana's & Beats" ,so lets have fun and wear your favorite Bandana so we can sign them or just wear it out !
info: https://www.facebook.com/events/718524428350721/
So much THIS!!
#HotWMD is delighted to add @polkadotparkpopup events to our 2018 schedule of events. #savethedates